Here are the details we need you to know:
RENTAL HOURS AND DETAILS
Rental Fee for the facility depends on the day of the week and number of hours required for the event.

Saturdays are $8,750 for 10 hours
Fridays & Sundays are $6,700 for 10 hours
Monday-Thursday $4,950 for 8 hours

Use of the property is restricted to the hours of 8:00 am-11:00 pm.
All Vendors and rentals must be dropped off and picked up with in the hours of the rental on the contract.
Access to Valhalla will be coordinated with Valhalla Tahoe's Operations and Sales Manager.
Included: use of the entire inside of the Grand Hall, prep kitchen (including the fridge and sinks), two changing rooms, 3 restrooms, Vikingsroom (can be used for caterer's staging or a late night kids area with babysitter), and outside wrap around porch.
Grand Hall capacity is 140 persons maximum (including vendors), indoors or outdoors, including porch. Person count exceeding 140 is prohibited due to fire and safety codes and limitations set by Forest Service regulations.

Upstairs balcony capacity is not to exceed 40 persons maximum (included in 140 persons).

Children on the balcony are required to be accompanied by an adult.

In no situation is any rental to be more than 130 total in the wedding party/guest total. Children and infants are counted as an adult for the total count.
WEDDING VENDORS AND INSURANCE
A licensed, insured Caterer must be hired for the event. Renters may not bring in their own food such as a "Pot Luck."

Cooking is not allowed on the porch area, but a buffet line with sternos is OK.
Caterers may use first 4 parking spaces as cooking area.
Caterers are required to wipe down, sweep and mop all areas of the kitchen and the Grand Hall in order to keep bears at bay.

Valhalla Tahoe DOES NOT provide dishes, linens, glasses or any serving pieces. These items may be obtained through a caterer or event rental company.
A licensed, insured professional full-service or "Day of" Wedding Coordinator/Planner is also required.
Due to the historic and sensitive nature of Valhalla Tahoe Grand Hall, Valhalla keeps a Preferred Vendor List. Vendors not on the Valhalla Tahoe Preferred Vendors List cannot operate at Valhalla without prior approval.

All vendors are required to sign off on the Vendor Agreement Policy.
Vendor staff may not consume alcoholic beverages while on site.
Catering staff or Valhalla Site Host is authorized to close down the bar is alcohol becomes a dangerous situation or is the cause of property damage.

Renter shall obtain general liability insurance covering the day of the event in the minimum amount of one million dollars in a form and amount satisfactory to Valhalla Tahoe. A certificate of insurance and a policy endorsement naming Valhalla Tahoe as additionally insured on the policy shall be provided to Valhalla Tahoe at least one month prior to the wedding.

Here are links where you can purchase event insurance:
OTHER CONSIDERATIONS
Parking is available in the Valhalla Parking lot, but it is limited; there are only 30 regular plus 2 handicapped spaces.

Shuttle rental may be needed to accommodate large parties.

Parking is NOT allowed off asphalt, on bike trail, in the circle drive in front of the Grand Hall, or on the one lane road as it is a fire lane.

Additional parking is available at the Tallac Historic Site (seasonal).

All furniture, tables, chairs, tables, garbage cans must be put away at conclusion of event.
Garbage liners are provided. It is the renter's, event planner's or caterer's responsibility to remove all refuse from the building, grounds, porches, and premises.

Use of Valhalla Tahoe onsite dumpster is included with rental fee.
Removal of trash and all food is critical to keeping bears out of Valhalla's historic buildings.

Set up and clean up and building fires in the main fireplace will be under the supervision of the Valhalla wedding site host. For safety reasons the outside fireplace is not available for use.

The wood in the fireplace will be provided by the renter and not by Valhalla Tahoe. Three or four pieces of wood at a time are sufficient for a pleasing fire.
RESTRICTIONS
Per U.S. Forest Service regulations, wedding ceremonies must be held in the Grand Hall and cannot he held anywhere outside the Grand Hall, to include the deck/patio or on the grounds of the US Forest Service's Tallac Historic Site.
Music must be maintained at a reasonable volume and allowed indoors only. All music must stop at 10 PM.
The use of propane heaters on the deck is prohibited.
No fireworks or sparklers are allowed on the property, inside or out.
Rice, bird seed, confetti, potpourri, glitter, rose/flower petals real & artificial or any substance of that nature is prohibited in building or on the grounds (potpourri/petals stain the floor).
Runners may be used on the floor however the regulation above still applies.
Candles must be used cautiously. Stationery glass containers for candles are mandatory!

Only dripless candles are to be used. Wax dripped on mantle, floor and/or fireplace will result in an additional $200 cleaning fee.

Decorations may be used; however, no tape, nails or staples can be used on building surfaces. Regardless of this, there are many creative ways to decorate.
Rental "Farm Tables" are not permitted to be set up or used in the Grand Hall without furniture pads under the feet, however they may be used on outside Grand Lawn receptions.
Dance floors are not allowed inside or on Grand Lawn.
Use of outside tents on the Grand Lawn is prohibited.
Rules are subject to change if Forest Service, El Dorado County, the State of California or other local jurisdiction requires them.
PETS
Pets must be on leash at all times. With the exception of registered service dogs, animals/pets are NOT allowed inside Valhalla. Service Animal's owners must provide official proof of certification.

All owners must clean up after their pets.
WINTER SEASON WEDDINGS AND FEES
In late November through December, the Grand Hall will be fully decorated for the Holiday Season. The holiday decorations will not be removed for any rental during that time period.
An additional $750 Winter Fee will apply to all weddings taking place in November & December.

Fee covers costs for additional propane to heat the building and plowing the road/parking lot if it snows prior to the event.

Smoking is prohibited inside the building and on the decks.
Renter will lose the entire refundable deposit if the No-Smoking rules are violated by the renter or their guests.

Guest can only smoke or vape in designated smoking areas.
Local Law Enforcement will be contacted if the Valhalla Site Host deems it necessary.

Wedding Rehearsal: Rehearsals may be scheduled at the cost of $200.00 for one hour if the requested time is available.

Wedding rentals take precedence over a rehearsal request. Times may be secured 60 days prior to the wedding date.
Officiant or wedding coordinator must be present during Rehearsal time.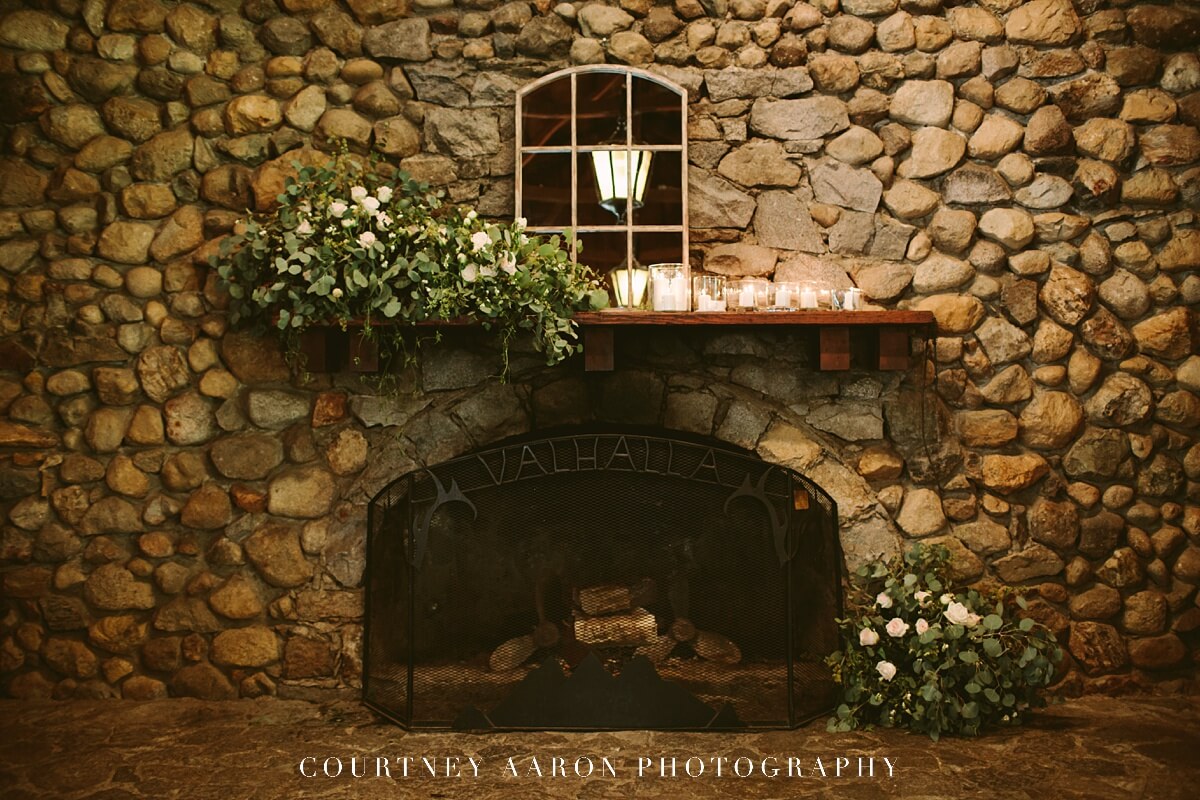 PAYMENT SCHEDULE
Retainer: 50% non-refundable retainer fee is due upon booking the event space and may be made by personal check, cashier's check, money order or credit card. Credit Card payments are subject to a service fee. Final payment after the 60 day deadline is not refundable.
Payment: Remainder of rental fee and $1000 refundable excessive cleaning/damage deposit is due, in full, 60 days prior to the event and may be made by personal check, cashier's check, money order or credit card. Credit Card payments are subject to a convenience fee. Final payment after the 60-day deadline is not refundable except for cleaning deposit.